ATOLL-DEEP SUB

,

France
Avec ATOLL CLUB decouvrez et pratiquez la plongée sur tous les sites de la rade de marseille, et plongez sur ses épaves. Formation FFESSM, PADI, IANTD
6 diving packages and courses
COURSES
OPEN WATER DIVER - With HBT without catering
$590.34
Affiliations:
No crew members updated yet
Gallery (177 photos)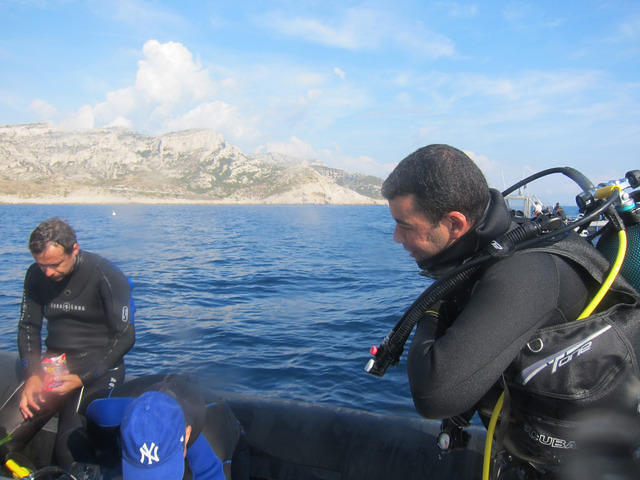 Services
Courses
OPEN WATER DIVER - With HBT without catering
$590.34
OPEN WATER DIVER - Sessions equipment got it + Theoretical monitoring
$451.69
Rental
Deco block Rentals (excluding inflation)
$5.42
Lighthouse
$8.67
Computer
$6.50
Stab or regulator or combi
$5.42
30/07/17 at 14:45
Nice small island close to Marseille (10 min boat ride). I had problems with my mask at the beginning of the dive and had to re-surface. I traded the mask with the DM and was ok for the rest of the dive. Saw plenty of octopi (common octopus - octopus vulgaris), also white spotted sea cucumber and zebra seabeam (Diplodus Cervinus).
30/07/17 at 09:43
Small island about 25 min boat ride. Part of a bigger archipelago. Dive is a full circuit around the island that offer multiple depths to explore. From 5 mts to 42 mts. This was a deep/long dive and I finishes with slightly lower reserve. Had to do a 4 min safety stop at 15 feet in addition to the 3 min regular stop. live variety is good and saw octopi, eels, grouper, red coral and Dalmatian nudibranch. DM was very good at planning the dive.
29/07/17 at 14:59
Reed dive in an interesting island about 20 min boat ride. Regular marine life, no current and fairly good visibility make this an enjoyable dive. There is a wide short grotto (cave) that is more of a tunnel than a cave that can be visited. Before penetrating the DM asked if I wanted to go or not (very well done!) at first I was not sure but after sitting at the entrance of the tunnel and being able to see the exit I decided to go in. Very nice experience.
Report review as inappropriate
Diveboard aims (among many other things!) at helping divers choose their dive center when travelling abroad. Thus, reviews need to be relevant for your fellow divers from all over the world.
If you think a review should be removed, report it to us and we'll decide what to do with the review based on the rules below.
You may report a review if it breaks one or many of the following rules:
Must provide useful information for fellow divers
Must be based on first-hand experience (i.e. hearsay, rumors, ...)
Should be original (Same review submitted several times by different users are considered as spam)
Shop owners must not impersonate customers
Must not be racist, sexist, homophobic, sexually explicit, abusive or otherwise objectionable
Must not break the law or condone or encourage unlawful activity. This includes breach of copyright, defamation and contempt of court
Must not encourage activities which could endanger the safety or well-being of others
Must not advertise products or websites unrelated to the shop
Please note that Diveboard will never remove reviews because they are too good or not good enough.
Report review as inappropriate
Processing please wait
Review for ATOLL-DEEP SUB
You have dived with ATOLL-DEEP SUB? Leave a comment about your experience, it will help out your fellow divers who travel to this part of the world. Thanks!
Overall
You need to tell us what Overall opinion you have.
Please make up your mind wether you'd recommend this dive shop and try again.
I would recommend it
I would disrecommend it
What service did you mainly use?
You need to tell us what service you've used.
Please select one and try again.
Autonomous dive
Guide
Tank fill
Training
Snorkeling
Other
Would you like to say a few words? (optional - 50 characters minimum)
Could you give some more detail? (optional)
Review for ATOLL-DEEP SUB
Processing please wait
My shopping cart
Dive Shack USA - Catalina Island
Introductory Scuba Dive
Just on one day Over several days
On:
From: Until:
Discount code or voucher
Enter your discount code or voucher to receive a discount to your total order. Multiple vouchers cannot be applied.
Sub
$98.00
Discount
$10.00
Total
$88.00
About
The #1 place for everything scuba.
Discover destinations through divers' eyes & book your dives.
Mobile ready and fully featured with the best online logbook to share your explorations and feedbacks.